Hey guys. Welcome back to another exciting quiz related to 'Riverdale'.
The first episode of Riverdale Season 5 is titled Climax and it premiered on 20 January 2021. Betty and Jughead call Charles after seeing the latest video from the Auteur, interrupting the Prom Night. Fortunately, Charles believes that Mr. Honey is still alive and that the footage of the Auteur is fake. Their investigation takes them to a hidden underwater cavern. Meanwhile, Veronica comes across a new song penned by Archie, but she has no idea that she composed it for Betty. When Veronica asks him to play, he declines, claiming that it is not worth it.
Did You Know?
Apa said he had to bleach his eyebrows to play Archie, a process he called "painful."
"They ended up bleaching my eyebrows, and I had two holes — they burnt into my skin," Apa said. "I was like, 'Oh, my, we've got to sort this out.' Luckily, I haven't had that again, but yeah, it was pretty gnarly."
KJ Apa soon to be called 'Dad'
KJ Apa and his girlfriend Clara Berry have surprised everyone by revealing that they are expecting a baby. Even though the two tried to keep their romance private, there were a couple of things that made people believe the two are in a relationship before they made things official.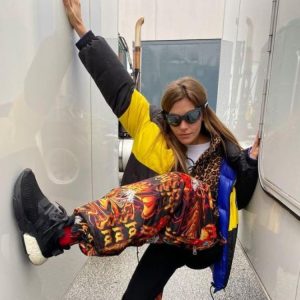 New Girl, Riverdale and Breaking Bad stars will come together in a new comedy remake movie, which already counts a Bill & Ted Face the Music star among its cast.
Deadline reports that New Girl's Max Greenfield, Riverdale star Marisol Nichols and Breaking Bad actress Betsy Brandt, as well as Mexican star Carmen Salinas, have all joined the cast of the English-language remake of French movie The Valet.
So you think you are a big fan of Riverdale and remember every tiny detail about all the seasons? Take this quiz and check your knowledge about season 5 of Riverdale.
You might also like- 'Riverdale' Quiz: How Well Do You Know The Villains Of The Hit CW Show?
Question of

In order to impress the Naval Academy Commandant, Archie participates in a boxing exhibition against whom?

Question of

Bret calls Betty and Jughead and offer them privileged details in return for what?

A meet-up with his family

A transfer to solitary confinement

Question of

Jughead return to Pop's in order to fulfill the promise he made to his friends. What did he discover?

A birthday party is thrown for him by his peers.

Pop's is no longer available.

His buddies didn't turn up.

He found FP and Jellybean back

Question of

After seven years of service, why did Archie return to Riverdale?

He received a call to return immidiately

Question of

After learning that Hiram Lodge is behind it, Archie, Alice, Toni, and Kevin struggle to keep what alive?

Question of

What did Archie, Betty, Veronica, and Jughead do to keep the school running smoothly?

Became the teachers at Riverdale High

Established a new school in Riverdale

Tried to steal from Hiram

Question of

Archie begins to enlist Riverdale's next volunteer for what, following his Grandpa Artie's footsteps?

The Healthcare department

the Construction Business

Question of

What case prompts Archie and Veronica to devise a scheme to raise school spirit?

Many students were depressed

Bulldogs lost several football games

School building got destroyed

Question of

Who said : The curse! The curse of our ancestors demands that all living Blossoms must die! Unless…